Initial Coaching Certification
Train-the-Trainer Coaching Certification
If effective coaching techniques were integrated into the culture of your organization, how might this enhance individual and team performance?
Or . . .
If you expanded your coaching services, how might this benefit your clients and your consulting practice?
Dr. Eric Allenbaugh, a seasoned executive coach and leadership consultant, periodically offers a Train-the-Trainer Coaching Certification Workshop for those seeking to enhance individual, team, and organizational performance. This four day, high-value, dual certification workshop provides best practice methods and tools in two critical areas:
Coaching to enhance performance, and
Applying the INTERACT Personal Strengths Profile to customize your coaching efforts for maximum learning and results.
The hands-on workshop will provide you with a wealth of new resources to develop internal management and staff or external clients. These tools can be immediately applied to enhance individual and team performance, facilitate executive coaching, and build leadership and communication effectiveness. You will expand your expertise, consulting skills, and tangible tools in four key areas:
Creating a coaching culture to support long-term development of people,
Implementing the INTERACT Personal Strengths Profile to facilitate gaining rapport and communicating with people having different style preferences,
Enhancing communication skills in dealing effectively with sensitive issues, ("Tough on issues and tender on people") and
Building coaching skills to work effectively with those ranging from your peak performers to those needing a "career opportunity elsewhere."
Who would benefit from this coaching certification course?
Top executives and middle managers who are seeking to optimize individual and team performance,
External consultants who want to expand services to clients while generating new business,
Human resource professionals who are seeking to create a coaching culture to improve both performance and job fulfillment, and
Organization development and training professionals, and
Others who want to build employee engagement while achieving enhanced results.
This certification workshop is guaranteed! Either you receive exceptionally high value, or your tuition will be refunded!
What does the Coaching Certification include?
Four days of value-packed, intensive training in coaching principles and pragmatic tools together with consulting and presentation skills to load your work for success;
A three-year certification for unlimited application of this intellectual property for executive coaching, team coaching, and conducting coaching workshops;
A three-year licensure for unlimited use of nearly 150 PowerPoint slides for professional, quality presentations.
A comprehensive Coaching Facilitator's Guide that includes pragmatic coaching principles and tools, step-by-step coaching and Interact Profile Instructions, and individual and group process coaching facilitation methods. The Facilitator's Guide also includes your personal copy of the Performance Coaching workbook and Interact Personal Strengths Profile;
Four hours of post-workshop, individual coaching with Dr. Allenbaugh during the three-year certification period to address your unique coaching and presentation needs and interests; and
Lunch will be provided each day during the seminar.
Count on experiencing high value as you become certified in two critical consulting applications:
Part 1 Certification:
Performance Coaching — Creating Giants of Others
Your certification will include both the content and consulting skills related to:
Creating an organizational culture that supports coaching
Building individual and team performance accountability
Linking "The Bottom Line" with "The Human Element"
Learning how to give upside and downside feedback while maintaining or strengthening relationships
Connecting with and honoring style differences
Reinforcing peak performance while redirecting those having performance or relationship issues
Implementing coaching strategies and tools for:

Individual and executive coaching
Team and peer coaching
Career coaching
Partnership Coaching
Working through performance challenges
Part 2 Certification:
INTERACT Personal Strengths Profile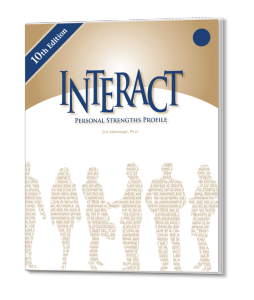 Dr. Allenbaugh, developer of the INTERACT Personal Strengths Profile (now in its 10th Edition), will guide you through how to effectively apply this tool in:
Coaching others to enhance both performance and working relationships while applying communication tools and approaches that work best for them,
Building teams that have a better understanding of how to work effectively with one another — and the tools to make that happen,
Enhancing your ability to influence others with integrity,
Building rapport and enhancing communication with different style preferences,
Working through interpersonal conflict in positive and productive ways,
Relating more effectively with your customers and clients, and
Expanding your versatility to connect with a wider range of people having style and communication differences.
REGISTER NOW For Lake Oswego, Oregon Certification Workshop