Performance Coaching Workshops Tailored for Your Organization
Developing talent is one of the more important leadership functions. And coaching is one of the most effective methods of enhancing individual talent and performance. By integrating coaching into your business culture, you can sharpen your competitive edge and position your company for "deliberate success." Eric Allenbaugh, Ph.D., has had more than three decades of pragmatic experience coaching executives and training leaders how to draw the very best out of their associates. He can tailor a results-oriented Performance Coaching workshop for your leadership team that will assist you in "creating giants of others" through best practice coaching principles and tools.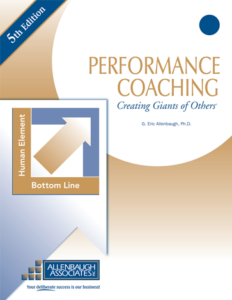 A typical coaching workshop will actively engage participants in no-nonsense methods that build confidence and competence in coaching others — ranging from your peak performers to those who should have a "career opportunity elsewhere." The Performance Coaching workshop, conducted in your facility, will likely emphasize the following topics:
Creating a supportive business culture for coaching
How to give performance feedback that is "tough on issues and tender on people"
How to connect effectively with people having different style preferences
How to engage your staff in clarifying performance targets, reinforcing strengths, and encouraging performance "stretches"
How to link empowerment with accountability
How to deal with challenging behaviors
How to take your talented people to the top
How to coach when things "hit the fan"
How to coach teams for collective success
In addition to custom coaching workshops, we offer these pragmatic and energizing Leadership & Team Development Workshops.
For more information about developing a coaching culture in your organization, contact Dr. Eric Allenbaugh at 503-635-3963.
"The job of a wise teacher is to help another to become."
— Stephen Covey