Maximize Awareness and Learning ——
Application for Work and at Home!
Dr. Wayne Dyer described Eric's book, Wake-Up Calls, as "A celebration of our own potential for limitless growth. It will help many to awaken." This enlightening and informative "Wake-Up Call" workshop incorporates many of the principles and tools of the book and has immediate application at work and at home. Participants often say that the workshop is a "life changing experience."
Not Your Average Learning Experience
You'll be amazed how these intuitive, simple principles can drive the creation of awareness and fulfillment at work – and at home. The seminar engages participants in an inward, practical journey that is safe, fun, insightful and powerful — your associates will be thanking you for a long time to come!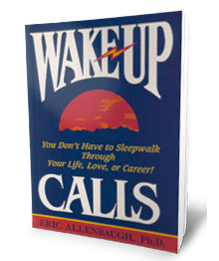 Learning from your Wake-Up Calls
Stuck in Your Stuff: What's the learning?
Resistance: A Resource in Disguise
New address — Same Old Stuff
Pause Power: Connecting Head and Heart
From Snooze Control to Awakening
Getting Out of Your Comfort Zone
Low Risk = High Risk
Making Conscious Choices, Experiencing Great Results
Making It Stick: The "Blip Theory"
To reinforce learning and sustain value after the session, it is recommended that each participant receive a copy of the best-selling book, Wake-Up Calls. Quantity discounts are available for this best-seller that is published in several languages.
This book features 5 Personal and Professional Growth Strategies:
Waking up
Taking charge
Talking straight
Making a difference
Staying awake
Here is what people are saying about Wake-Up Calls
and how it can benefit you and your team:
"A celebration of our own potential for limitless growth. It will help many to awaken."
— Wayne Dyer, Ph.D., author of You'll See It When You Believe It
"It will take you on a journey of increased inner awareness and outer effectiveness. You may never be the same again."
— Brian Tracy, author of The Psychology of Achievement
"A refreshing, gentle invitation to become far more than you ever imagines. It makes it safe and easy to grow."
— Ann McGee-Cooper, Ed.D., author of You Don't Have to Go Home from Work Exhausted
To find out more how this popular workshop can engage, enlighten, and motivate your team, contact Dr. Allenbaugh at 503-635-3963.
"To gain the most from your life journey,
 treat every person you meet as a teacher 
and every situation you experience 
as a learning opportunity."– Eric Allenbaugh, Ph.D.