INTERACT Profile Advantage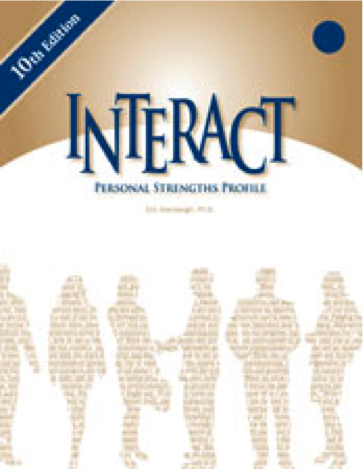 The INTERACT Personal Strengths Profile is a nationally recognized consulting tool and has a solid track record of developing individuals and teams in hundreds of businesses and governmental organizations.
This pragmatic, insightful profile is used by consultants, trainers, therapists, educators, and counselors as an effective team development and life-learning tool.
The INTERACT Profile starts where Myers-Briggs leaves off. INTERACT identifies a person's style and style blends (the "what?"), but more importantly, identifies specific communication and rapport building strategies on how to connect with others (the "so what?").
Additionally, INTERACT measures how people function under favorable and stress conditions — reflecting the way business and life really work. It's loaded with tools on how to bring out the best of ourselves and others.
Many consultants and in-house trainers certified in other style profiles often switch to INTERACT because this profile:
Is exceptionally easy to apply and interpret
Visually displays the four primary styles and style blends
Focuses on tangible communication and rapport building tools under both favorable and stress conditions
Provides easy-to-remember methods of recalling our own style and quickly assessing the styles of others
Provides numerous "aha" moments and pragmatic tools for immediate application at work and at home
Provides significant depth and tools to facilitate ongoing learning and pragmatic application long after the workshop ends
Has a strong, research-based foundation coupled with application of the most current tools for enhancing interpersonal relationships
To increase value to you and your team, the INTERACT Profile is usually integrated into the Building Great Teams and Performance Coaching workshops offered by Dr. Eric Allenbaugh.
A PREVIEW COPY is available for $22.50 plus S&H from Allenbaugh Associates. Quantity orders are limited to those who are Certified INTERACT Trainers.
Contact or call Dr. Allenbaugh today at 503-635-3963 to explore how application of the INTERACT Profile can be beneficial to increasing leadership and team effectiveness.