Stop Sleepwalking & Start Living —— At Work & At Home!
This popular keynote address effectively links life and leadership strategies that can make a powerful difference at work and at home. Full of insights, tangible tools, and lots of laughs, this keynote is one that changes lives.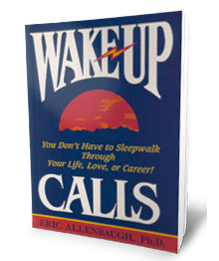 Wake-Up Calls
Stuck in your stuff: What's the learning?
Resistance: A Resource in Disguise
New address – Same Old Stuff
Pause Power: Connecting Head and Heart
From Snooze Control to Awakening
Getting Out of Your Comfort Zone
Low Risk = High Risk
Making Conscious Choices, Experiencing Great Results
Making It Stick: The "Blip Theory"
To reinforce long-term learning, consider providing your audience with their own copy of Eric's best-selling book, Wake-Up Calls. Quantity discounts are available.
Would you like more information? Contact Eric Allenbaugh to discuss scheduling a Keynote Speaking engagement with your company or organization.
"To gain the most from your life journey,
treat every person you meet as a teacher
and every situation you experience
as a learning opportunity."
— Eric Allenbaugh, Ph.D.